Flexible Graphite ---Graphite Tape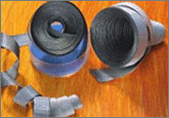 Graphite tapes are professionally produced in our plant using the latest CNC controlled slitting equipment, which gives consistently accurate tape widths from 3mm or above and minimum material wastage. They are for making various graphite sealing components and graphite braided packing etc.
Typical Types
, Graphite flat tape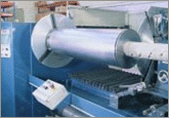 , Crinkle graphite tape
Graphite tape is rolled and corrugated. It can be used for the sealing
of threads, flanges, valve stems etc.
, Adhesive backed graphite tape
Refer to graphite tape with adhesive tape on one side. It is mainly used
for the sealing of threads and flanges
, Adhesive backed crinkle graphite tape
Refer to crinkle graphite tape with adhesive tape on one side
Specifications
, Thickness 0.2-1.0mm, width 4.2-610mm
, We can produce the dimensions as per your requirements
Typical Applications
, Filler for Spiral Wound Gaskets
, Pump and Valve Gland Packing
, Manufacture of Graphite Die-formed Rings
, Facing Material for some type Gaskets
, Filler for Metal Jacketed Type Gaskets
Please contact us for more information, and we would be welcome the opportunity in supporting you with these projects.