Parts/Services---EDM Industry


Graphite electrodes that BGWI supplies are excel in difficult and precision applications while providing predictable results. Our EDM products have the characters of a good balance of metal removal rates, low electrode wear, and fine surface finishes. BGWI provides graphite products for EDM applications and EDM performance solutions including:
, Fine Detail Electrodes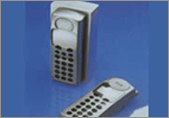 , Threaded Electrodes
, Medical Prosthetics
, Aerospace
, Carbide Burning
, Petro Exploration
, Plastic Injection Molds
, Large Blow Molds
, Die Casting
, Punch and Die Sets
, Forging Dies
, Large Injection Molds
Please contact our engineers in case you should have any technical questions. We would be welcome the opportunity to assist you in tailoring solutions for your specific applications.