Parts/Services---Metallurgical Industry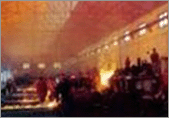 Graphite products are widely used for metallurgical industry due to their low surface wetting by molten metals, high thermal and chemical resistance and good lubricating properties. BGWI provides high quality graphite components with enough competitive service for the metallurgical industry, and the typical components as follows:
, Skimmer Paddles

, Skimmer Spoons
, Molds and Casting Dies
, Casting Rings
, Hot Pressing Dies and Parts
, Sidewall Blocks
, Furnace Furniture
, Molten Metal Shields
, Resistance Heaters
, Heating Rods, Holders and Contacts
, Analytical Crucibles
, Braze Fixture Assemblies
, Troy Ounce Silver and Gold Ingot Molds
, Crucibles and Process Equipment for reduction and melting operations
, All sintered Items in
  ! Copper
  ! Brass
  ! Bronze
  ! Graphite
  ! Iron
  ! Nickel
Please contact our engineers in case you should have any technical questions. We would be welcome the opportunity to assist you in tailoring solutions for your specific applications.